Best Desert Tours In Morocco
Morocco Guided Camping Tours
Private Desert Tours In Morocco: Getting here is made easy with our exclusive services especially if you are not familiar with the desert territory. We can provide you with clean and comfortable transport. Get your itinerary and Sahara desert tours in Morocco arranged today!
Private Desert Tours From Marrakech
Top Desert Tours From Fes
Affordable Desert Tours From Ouarzazate
Top-notch Desert Tours From Errachidia
Popular Desert Tours From Casablanca 
Short Desert Tours From Erfoud
Famous Morocco DESERT TOUR
Desert Tours From Errachidia
Request a transfer from Errachidia airport to The White Camp. Tell us how many people that will be joining you on this stay? Extend your trip to cover the tour around the dunes of Erg Chebbi and a drop off in Marrakech or Fes.
Desert Tours From Ouarzazate
Arrange for a pick up from your hotel or airport in Ouarzazate to our luxury desert camp. Make stops on the way to visit Skoura oasis and Todra gorge before getting to the camel area to experience a camel ride across the golden dunes. A 2 days round trip is hilghly recomended from Ouarzazate city.
Desert Tours From Fes
Starting from Fes is a journey of 7 hours drive. Stopping along the way to see the Switzerland and monkeys in the cedar forest. You will notice the landscape changes. A 2 nights & 3 days transport from Fes can make your tour a memorable one. Ask us for a detailled itinerary based on the number of people at your party?
The choice is yours, 2,3, 4,5 days... desert trips from Marrakech to Merzouga dunes are more popular. Let us know how many days you want to spend in order to visit and stay at The White Camp. Check our initial itineraries starting from Marrakech.
SAHARA DESERT TOUR PACKAGES ON REQUEST
We offer a complete range of tour services and itineraries that can be arranged as a customized tour package in Morocco to suit our customers' needs. Adapt the tours to include a camel trek and overnight in a luxury desert camp. Read reviews or start your Morocco-guided camping trips now!
CAMPING TOURS FROM CASABLANCA
Start planning a camping tour from Casablanca. Arrive at the Sahara desert with our experienced driver. We can tailor-make your Morocco tour from Casablanca from the day of your arrival until the day of departure. We have knowledge about travel in Morocco and that's our field. Don't hesitate to share your travel ideas with us!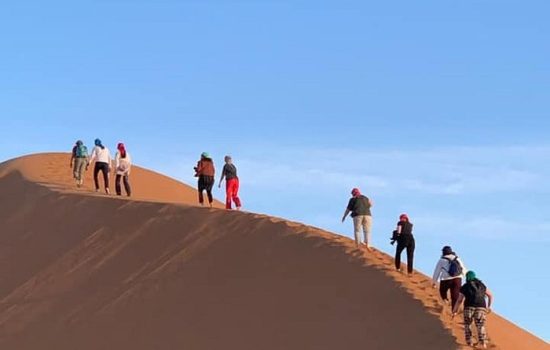 CAMPING TOURS FROM ERFOUD
We offer private transfers from Erfoud to Merzouga and Erg Chebbi dunes. Hire our comfortable 4x4 vehicle from Erfoud town to take you to desert camp at fair prices. Book this private transfer or customize your itinerary. Explore the magnificent dunes and small villages on a day trip from Erfoud with us.
We would love to welcome you to our gorgeous desert camp in the breathtaking Sahara desert of Morocco.
Frequently asked questions