Sahara Desert Glamping In Morocco
BEST CAMPING TENTS IN 2023/2024
Sahara Desert Luxury Camp Prices & Deals
A single tent is best for Solo and independent travelers.
A double tent is ideal for couples or honeymoon seekers.
A twin tent is perfect for two friends or individuals.
A triple tent comes with three beds or one big and one small. Good for friends.
A quadruple tent is perfect for families that travel to Morocco with kids.
A 5 people tent is a luxury tent that comes with one big and three small beds.
Why Choose The White Camp In Merzouga & Erg Chebbi?
We take delight in sharing guest reviews from The White Camp on TripAdvisor with both our potential and new customers and travelers. Discover inspiration!
"Tasty food, set inside a lovely green tented restaurant ."
It was an real incredible experience for me. The quality of food was only matched by the quality of service I got. I wish I can keep the flavor in my mouth for ever. Thanks for making the evening an unforgettable one.
"The perfect way to experience the stillness and quiet of the desert."
We spent one night in The White Camp, in the middle of a 12 day tour of Morocco. The camel ride in was the perfect way to experience the stillness and quiet of the desert. We were greeted by a red carpet leading to excellent, fully-equipped tents, extremely friendly and welcoming staff, great food and a special atmosphere. We will gladly return one day.
A magical experience spending 2 nights at this gorgeous camp! Beautiful and comfortable accommodations with amazing hospitality set in the Erg Chebbi Dunes. Such great attention to detail in everything from the food to the décor.
"An amazing experience from start to finish"
The White Luxury Camp was an amazing experience from start to finish! The tents are elegant and comfortable, the food is fantastic and the central layout, with large cushions on Moroccan carpets surrounding a fire pit, is like something from a dream! Our group danced around the fire to drumming at night and in the morning did some light yoga there.
The White LUXURY CAMP is located on the edge of the dunes of Merzouga. Exceptional site located in the Moroccan Sahara desert. The professionalism of the reception is a strong point, as well as the cleanliness of the establishment. We also take care of the diversity of Berber dishes served at dinner. An ideal place to discover the tranquility of the desert and its starry nights. Are you willing to stay with us!
Our expertise speaks volumes
Custom Sahara Desert tour packages available upon request
We offer to design itineraries, customized packages & desert tours to suit our customers' needs and interests.
Morocco Camel Treks For Merzouga luxury desert camps
Take a camel trek in the Sahara Desert at Erg Chebbi dunes. You will trek on a camel for 40 minutes or less onto the dunes to watch the sunset before arriving at our Merzouga desert luxury camp. Or we can organize a stars camel trek or an early morning camel ride to see the sunrise for you. 
Sunset Camel Trek
Experience a camel ride to watch the sunset on the golden dunes of the Erg Chebbi & Merzouga region. After the camel trek, it will be our delight to welcome you to our Merzouga Luxury Camp. Have a cup of fresh mint tea as our Moroccan hospitality.
Sunrise Camel Trek
Wake up earlier to go on a camel trek over the sea sand of Erg Chebbi. Climb the highest dune where you can sit to watch the sunrise with its stunning everchanging colors. Enjoy these inspiring morning moments in the middle of the dunes.
Overnight Camel Trek
Choose to Overnight at The White Camp to experience a luxurious comfort in the middle of nowhere. Book an accommodation package that includes a camel ride and a night in a desert tent. Spend a night or two and enjoy many activities in the desert.
The White Luxury Camp is overlooking the highest sand dunes of Erg Chebbi. We are located in the middle of the Sahara desert and close to Tisserdmine and Merzouga villages in a very calm natural place that offers excellent views of sea sand and the Hamada (black desert). 
Erg Chebbi dunes, Merzouga, Rissani, Erfoud, Morocco
Choose us to profit from our best location, and enjoy top-quality dishes prepared by our professional chefs to please your palate.
Top 6 Most Luxurious Tents & Suits In Merzouga & Erg Chebbi Dunes
Private Sahara Luxury Camp
The White Camp is composed of 6 luxury tents beautifully decorated with different colors, each one characterized by bigger beds. Our tented camp rooms and suits are single, double, twin, triple, quadruple, and family hotel rooms. Please check the section "Luxury Camp" for tent pricing and more details. These 6 tent rooms can sleep a maximum of 18 to 24 people. Perfect for getting away with family or a group of friends. Contact us via email or phone call to pick your perfect tent.
Best Morocco Desert Camp Services  and Packages
An Invitation to a unique & a memorable stay that awaits you!
You will start your day with a delicious breakfast facing the dunes or inside the restaurant which is a big tent. It is served as a buffet with a wide choice of condiments to make full of energy (pastries, bread, butter, jam, orange juice, coffee, tea, etc.). You will be able thanks to our large picture windows, to benefit from the breathtaking view which is offered to you.
Dinner, meanwhile, you will discover the delicious cuisine of our Chef, made of a mix of traditional cuisine, Moroccan dishes, and international cuisine. We insist on the balance of our meals and the quality of the products we serve you. You can also discover during your stay the delicious Madfouna offered by our region as well as the Couscous and the Tajine with different types of meat(Chicken, Beef, Sheep, Goat), considered as a high-quality dish in Morocco. If you are vegetarian, vegan, or have certain allergies, let us know in advance and our Chef will fit!
Staying with us will let you enjoy a modern home in a traditional way, with all the facilities (Toilet, Bathroom, washbowl), with very comfortable beds along with blankets, towels, soap, and shampoo…
Come stay with us in our Sahara luxury desert Camp and let our Berber team serve you well!
WATCH SAHARA DESERT LUXURY CAMP ON YOUTUBE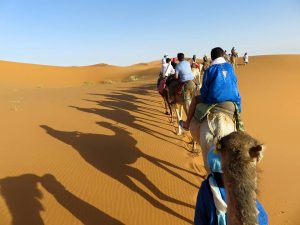 Frequently asked questions